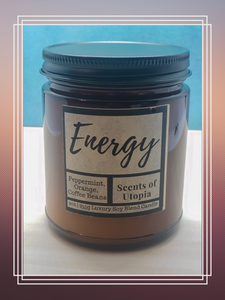 Scents of Utopia's Tranquility Candle contains notes of coffee, peppermint, and orange. 
6.5 oz custom soy-blended candle
Hand-poured in Howard County, MD
Burn Time: 35-40 hours
Candle Care & Instructions
DO NOT leave candle unattended, or anywhere near children, flammable substances, animals or objects.
DO NOT burn candle for more than 4 hours at a time.
Candle must be placed on flat, flame retardant, and uncluttered surfaces.
Allow wax to melt on all sides of vessel to ensure a better and even performance for the next burn. The recommended burn time is 3-4 hours per burn session.
After each burn, trim wick to 1/4" inch above wax before relighting. Discard the trimmings.
When candle has less than 1/4 of the wax left, the candle has finished. DO NOT continue to burn. Failure to discontinue use at this time may cause the vessel to crack or shatter.
Wooden Wicks:
All of our Signature Collection candles contain wooden wicks.  The wooden wick emulates the sound of a crackling and cozy fire while burning. 
Hold flame to the wooden wick for 3-5 seconds to light the candle. You may need to relight it more than once.